Malibu Rising is immersive, beautiful, tragic, funny, and uplifting. Welcome to the crazy 80s.
Synopsis:
Malibu: August, 1983. It's the day of Nina Riva's annual end-of-summer party, and anticipation is at a fever pitch. Everyone wants to be around the famous Rivas: Nina, the talented surfer and supermodel; brothers Jay and Hud, one a championship surfer, the other a renowned photographer; and their adored baby sister, Kit. Together, the siblings are a source of fascination in Malibu and the world over-especially as the offspring of the legendary singer, Mick Riva.
The only person not looking forward to the party of the year is Nina herself, who never wanted to be the center of attention, and who has also just been very publicly abandoned by her pro tennis player husband. Oh, and maybe Hud-because it is long past time to confess something to the brother from whom he's been inseparable since birth.
Jay, on the other hand, is counting the minutes until nightfall, when the girl he can't stop thinking about promised she'll be there.
And Kit has a couple secrets of her own-including a guest she invited without consulting anyone.
By midnight the party will be completely out of control. By morning, the Riva mansion will have gone up in flames. But before that first spark in the early hours before dawn, the alcohol will flow, the music will play, and the loves and secrets that shaped this family's generations will all come bubbling to the surface.
Malibu Rising is a story about one unforgettable night in the life of a family: the night they each have to choose what they will keep from the people who made them . . . and what they will leave behind.
Genre:
Literary Fiction, Woman's Fiction
Trigger Warnings:
Drug Abuse, Suicide, Cheating.
Spoiler-Free Review
I've been all about anything written by Taylor Jenkins Reid for a while, but particularly I love this style of writing seen in Daisy Jones & The Six and The Seven Husbands of Evelyn Hugo, where she writes a sort of memoir about her fictional characters – in a way that is so realistic you feel like you could type their name on Google and see them featured on Wikipedia.
I'm not sure if this is a trilogy or an anthology, but Malibu Rising is set in the same universe as Evelyn Hugo (so, I'm choosing to believe Daisy Jones is part of this same world as well). Although this book is a complete standalone, one of the protagonists of Malibu is none other than Mick Riva, aka husband number three. However, Malibu Rising is so much more than an expanded universe, it's a tour de force. Raw, emotional, nostalgic, and filled with the taste of summer afternoons and salty skin.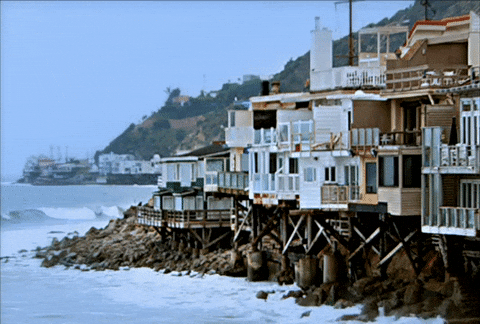 Jenkins Reid leads us on a journey filled with heartbreak and tragedies, where it still manages to be forgiving, uplifting, and more importantly convey the wild feel of Malibu in the 80s. The setting couldn't be more perfect.
Most of the book uses a style that I love – from 7 am to 7 am – narrating each hour of the fateful day of Hollywood's most talked-about party. Anyone who is anyone will be attending Nina Riva's wild bash. A party that just gets more out of control each upcoming year. No invitations are sent out, to be a part of it you just need to know where it is.
But, to understand exactly how everything is going to burst up in flames in 1981 we get flashbacks to how the Riva family came to be – when Mick met June. Before he was THE Mick Riva (wildly known singer of Frank Sinatra proportions) he was just a handsome guy that knew how to carry a tune, and June was just a pretty LA girl who wanted to escape her square life.
Nina, Jay, Hud, and Kit are their offspring, each with their own story to tell filled with their own struggles and secrets, and in 24h (just like a perfect wave) everything will come crashing down before Malibu rises again.
Go read this.
RATING: ☆☆☆☆☆ (5 Stars)
Thank you Penguin Random House UK, Cornerstone, and Netgalley for the complimentary copy in exchange for an honest review.
Find the book here